Laser controlled clipping of box hedges
Introduction
The characteristic elements in formal baroque gardens as found at Paleis Het Loo (Apeldoorn-Holland) are patterns of low boxhedge (height 15-35 cm). These hedges need trimming two times a year. Until recently the skilled gardeners of Paleis Het Loo trimmed all box hedges by hand.
Though the handclipping results are very good, the process itself is very slow and therefore very expensive. Moreover the new ARBO health and security legislation in Holland does no longer allow gardeners to stand deeply bended forward for so many hours a day, risking backbone problems. This was the reason for developing the laser controlled boxhedge clipping vehicle.
General description
The vehicle is a relatively small one man operated wheelbarrow-like vehicle, with variable speed wheeldrive.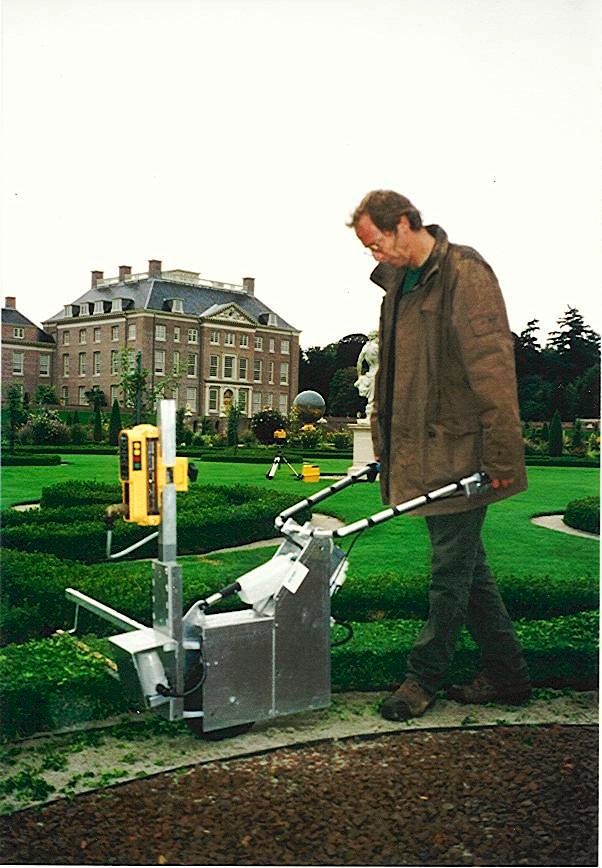 The vehicle is made as compact and lightweight as possible and its total center of mass is located directly behind the wheel axis. This makes the vehicle easy manoeuvrable, which is especially important for clipping narrow curved patterns of boxhedge. The variable speed wheeldrive, to control the clipping speed, can be adjusted very accurately by a thumbwheel on the steeringbar. The wheeldrive can be unlocked easily by a handle for quick transportation of the vehicle.
All electrical power comes from an on-board maintenance-free 12 Volt battery, so there is no need for powercables etc. This makes the operation safe and easy.
The vehicle carries a professional 12V-DC electrical hedge trimmer with cutter blades optimized for box hedge clipping. The electrical trimmer can move up and down along the vehicle. The vertical motion of the trimmer is controlled by a laser beam from a rotating lasersource, placed at a preselected position in the garden. The rotating laserbeam describes a horizontal or a non-horizontal plane (for gardens on a slope).
Within the reach of the rotating laser beam (up to 300m), cutting height is automatically controlled within narrow tolerances (+/- 3mm). This means that cutting height is independent from the vertical movement of the vehicle. This ensures robustness against disturbances caused by holes, slopes or bumps in the soil next to the hedge.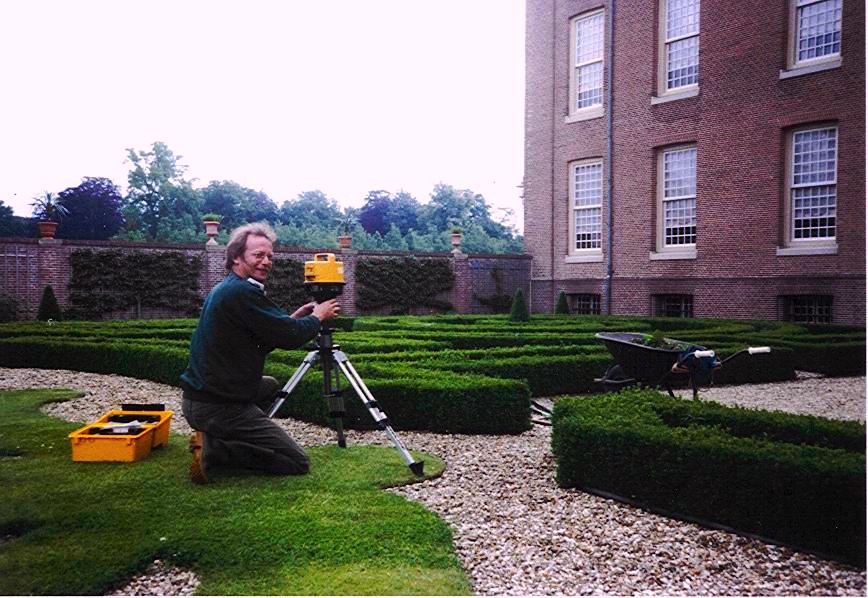 In order to ensure that the top of the boxhedge will be trimmed horizontally over its width, the clipping vehicle is equipped with an electronic levellingsystem. This system sounds a tone to the operator's headphones (wireless), indicating "lefthand too low or righthand too low". No audio signal means OK. The neutral no-signal bandwidth as well as the level of the audio signal itself, can be adjusted at will. Moreover the headphones protect the operator's ears from the noise produced by the hedgetrimmer.
Side clipping of box hedges
For side clipping of boxhedges the electrical trimmer can be mounted vertically on the side of a similar vehicle. The laser for automatic height control is not needed then, but the electronic levellingsystem is very convenient for maintaining the correct cutting angle.